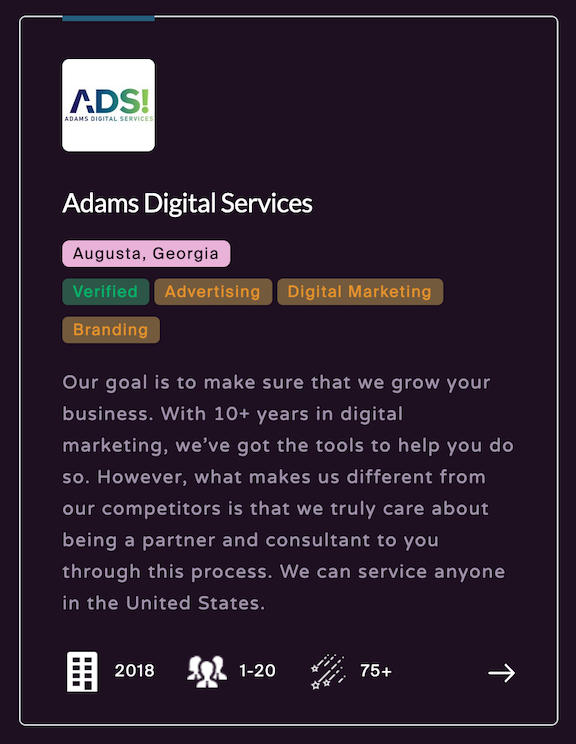 Adams Digital Services – November 10, 2022
‍Adams Digital Services gets recognized as a Top 50 Advertising, Digital Marketing, and Branding firm by 50Pros.com, an online listing used primarily by Fortune 1,000 companies to discover & hire top firms and agencies.
‍This is excellent news because it sets us apart from other advertising, digital marketing, and branding agencies in the Augusta, Georgia, area. We want to share our expertise with our clients to help them succeed and grow.
‍Augusta, GA – November 10, 2022 – 50Pros announced today that Adams Digital Services has been vetted and met its qualifications as a top 50 Advertising, Digital Marketing, and Branding firm within these directories. 50Pros uses an internal methodology & approach to determine if a firm is 1) competent in their field, 2) able to produce stellar results, 3) reliable & trustworthy, and 4) well-equipped for long-term potential. As an exclusive and higher-end directory platform serving Fortune 1,000 companies, 50Pros limits its listing to only 50 firms within 50 service categories.
‍This recognition signifies that the CSRA is being fortified as a hub/destination for Advertising, Digital Marketing, and Branding. Adams Digital Services is making a difference in our area for these categories.
‍Our CEO/Founder said, "This is an exciting adventure for our company to get into a larger space with our products and services. We believe many companies out there provide the same services, but we excel in our customer service and ability to make a difference for our clients."
‍This distinction allows us to offer the same opportunities to the Fortune 1000 companies that we offer our smaller clients. It is a distinction we are proud of for our business, industry, and community.
Check out our "About Us" page to learn more about our team.
‍Our focus is on growing your business with the best customer service in the Advertising, Digital Marketing, and Branding industries. We appreciate our clients trusting us with their business! If you are looking for a new Advertising, Digital Marketing, and Branding agency, please reach out to Lisa Adams-Jennings at 803.467.9787 or via email at Lisa@adamsdigitalservices.com.
‍