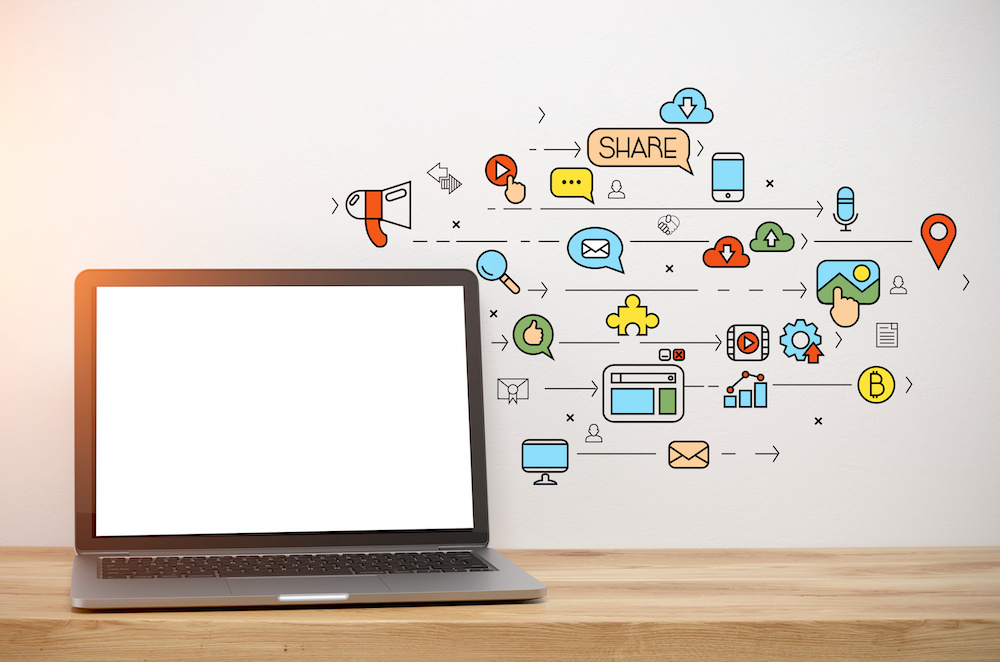 How to Start Your Social Media Presence
The many facets of social media can be intimidating, especially because of how quickly they change and evolve. For beginners, starting a social media presence for your business may feel like an impossible task. You may be wondering what platforms you should be on, how often to post, what type of content to publish, and more. After all, social media plays a huge role in your brand identity and how your customers view and interact with your business online.
 The key to being successful on social media is to view it as an ongoing process. Anyone can start a social media account, but it can be difficult to start growing your platform and gaining new followers that turn into new business. However, if you follow the five simple steps in this post, you can successfully start a social media presence that reaches your target audience and enhances your business.
Create and optimize your accounts
First, set up your accounts on the platforms that align with your audience. Every business should start by claiming their free Google Business Profile. Then, create a business page on Facebook and a business account on Instagram. These two platforms are owned by the same parent company, Meta, which means you can easily connect the two profiles. If you have a younger target audience, you might consider using Tik Tok. To connect with other businesses and professionals, you may also want to join Twitter and LinkedIn.
Once you have created your accounts, work on optimizing them with accurate and relevant information such as your display name, username, phone number, website, and email address. Then, you should upload profile images that are easy to identify, such as your logo or brand colors. Lastly, type a short description about your business, also known as a bio, which should ideally be 1-2 lines or a few bullet points.
2.  Observe your competitors
Before you start posting content, take some time to research your competitors and how they use their social media platforms. Pick 2 or 3 of your top competitors and scroll through their profiles, making notes about what they post, how they interact with their audience, and how much engagement their content receives. Remember, your target audience will be the same or similar to theirs.
As you observe the competition, you will begin to see a pattern of what works and what doesn't. Incorporate their best practices into your own social media plan while maintaining a unique brand identity.
3.  Make a plan
The best way to start growing your platform is to set specific, achievable goals and make a plan to work toward them. Your goals might be based on post impressions, engagement, new followers, or conversions. Think about the type of content that would help you reach each of your goals, and then write down some ideas for specific posts.
After you finish brainstorming, begin creating and organizing your content. Try to use consistent colors, fonts, and templates that help identify your brand. Use a mix of informational, promotional, fun, and engaging posts that appeal to your audience. Make sure to include captions, images, links, hashtags, and other elements. Next, determine how often you want to post your content. You can either use a scheduling software to publish your posts, or you can create a detailed content calendar and upload them manually.
4.  Get the word out
When you are ready to launch, make sure people know about it! The first step to gaining followers is to tell people you are on social media. You can do this by sharing your new business page on your own personal accounts and asking friends to do the same. You can also start following other business accounts and interacting with their content.
If you want to take it a step further, incorporate your social media channels into your paid advertising. Consider doing a giveaway contest where new followers can enter to win by sharing your page. Encourage your existing customers to write about their experience with your company or share their recent purchase on social media. As you grow your followers, keep them engaged by posting interesting content, special offers, and exciting updates that they will look forward to.
5.  Stick to a consistent schedule
As we mentioned, social media is an ongoing process. Platforms are constantly changing, trends are evolving, and it is easy for followers to become disengaged. The most important driver of success on social media is consistency. Never let too much time pass without posting content or interacting with your followers.
 As a rule of thumb, always create and plan your posts in advance so that you are not pressed for time in the midst of your busy schedule. Continue tracking the success of your content by setting new goals consistently. Pay attention to the timing of your posts as well, and try to schedule your most important content on the day and time that produces the best results.
Best Practices
Congratulations, you are officially on your way to having a successful social media presence for your business! Increasing your brand awareness in the digital realm is a great way to take your business to a new level. Just remember these best practices as you continue on your way to success.
First, be creative. Do not be afraid to think outside the box and try new ideas that make people pay attention. Second, always be professional. Even if you receive rude and hateful comments, choose the high road and represent your brand in a positive manner. Third, don't hesitate to ask for help. If you feel overwhelmed, burned out, or just too busy, Adams Digital Services can help you build your social media presence from start to finish.
Our marketing professionals at ADS will create custom graphics that represent your unique brand and appeal to your target audience on a consistent basis. Just give us a call at (803) 467-9787 or visit our website.