New Web Chat Product Launch
 Adams Digital Services is excited to announce that we are now offering a web chat product for our clients! This product, Zyratalk, is a 24/7 automated web chat platform for your website. We know that your customers are your highest priority, which is why we are offering a product focused on improving their online experience with your business. Zyratalk is one of the best and newest platforms in the industry, and it is available to all of our new and existing clients with a consumer-facing website.
Benefits of Web Chat
According to CampaignMonitor.com, websites that add a live chat feature typically result in higher customer satisfaction and increased conversion rates, leading to a significant return on investment. Additionally, the automation factor of Zyratalk's platform means that each potential customer on your website is receiving instant support without you lifting a finger.
As a growing number of people do their research and shopping online, it is important for your website to stand out from the rest. Web chat conversations are beneficial to your customers because they offer a more connected experience, higher engagement, and convenient, round-the-clock support. By offering such quick and easy assistance, you are communicating that you are responsive, available, and interested in your customers' needs. These attributes will give you an edge over your competition and contribute to more customer acquisition.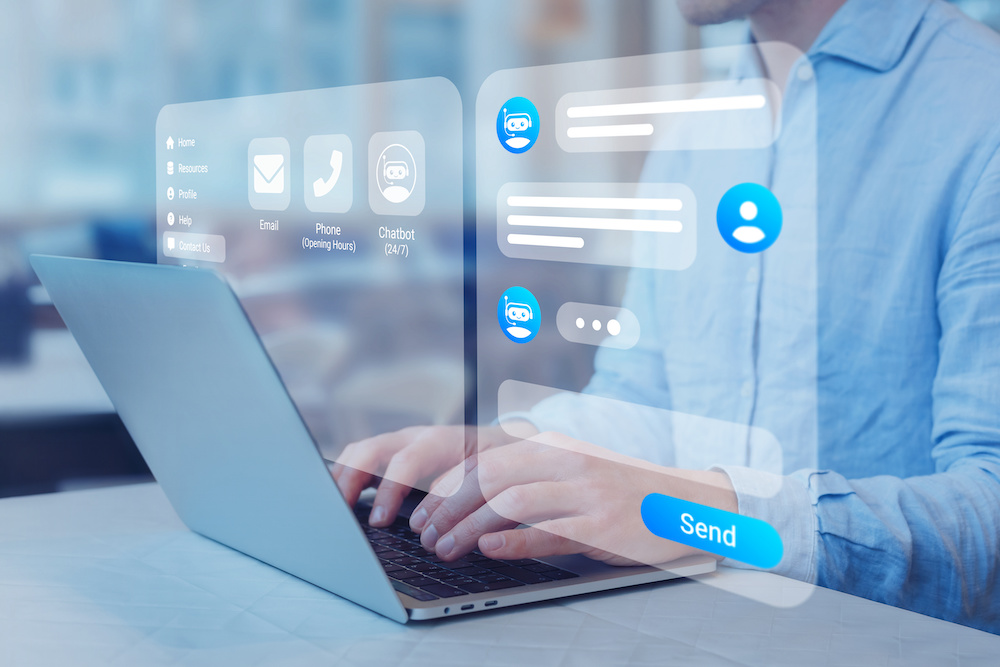 How Does it Work?
When someone clicks on your website, the web chat will pop up in the corner of the screen with a greeting message, followed by response buttons that the user can click on. The response options are customizable so that you can offer the most relevant information for your customer base. For example, some options might be "Chat with us", "Call now", "Schedule an appointment", "Leave a review", or any other action item or link to information.
Next, depending on which option the user chose, they will either be taken to another page on your website, or they will begin a chat. Zyratalk allows the user to type the first message of the conversation, whether it be a question or a specific request. The chat detects keywords in their responses, and adapts the conversation accordingly.
Throughout the conversation, responses from your business will be completely automated until the conversation with the consumer is complete. The goal of each chat is to capture the consumer's name and contact information. If this is done successfully, the chat is considered complete. Afterwards, the conversation thread will be sent to the appropriate person within your company, and you will have an opportunity to follow up with each potential lead and offer further assistance.
Customization
Zyratalk offers several customization options within the platform. The initial greeting message and response options can be customized to each page on your website. For example, if a consumer is exploring your financing page, the chat box will show a message about your financing options. This feature can even be used on your careers page to qualify potential candidates that may be interested in applying at your company. You can also customize each automated response that appears, according to keywords provided by the consumer during the conversation.
Additionally, you can choose which department receives the conversation thread after it is complete, depending on the subject discussed. For example, a conversation about your available staff positions would be sent to Human Resources, while a request for an appointment could be sent to your customer service team.
Our team at Adams Digital Services will take care of all the page-by-page customizations for your chat platform. We will also incorporate your branding into the chat box so that your colors and logo are facing the consumer throughout every interaction.
Why Zyratalk?
We are mostly excited about Zyratalk because the platform has seen excellent success rates so far. RS Andrews, an HVAC company in Atlanta who uses the platform, had over 1,300 web chats started in 2022, and 97% of those chats were completed. We believe that this platform offers huge potential for our clients to gain new leads and harness the power of online engagement. Plus, Zyratalk is adaptable for all types of users, as it works on both desktops and mobile devices.
How to Get Started
If you are interested in adding this new web chat feature to your website, it is easy to get started. Adams Digital Services will take care of installation, customization, upkeep, and monitoring on your platform. We are now offering this product on a month-to-month basis, which can be cancelled at anytime.
In order to achieve the highest success rate with Zyratalk, we suggest implementing an action plan for following up with these web chat leads. Experts claim that the most important factor in converting online leads is a timely follow-up call from the company. We'll take care of the automation so that you can continue to provide your top-notch service.
Let us know if you would like more information about Zyratalk and its features and benefits. We are happy to discuss investment and overall value, and how this new product might impact your business going forward. Just give us a call or reach out on our website, www.adamsdigitalservices.com!